April 15, 2020 | Wine Time | Robert Campbell
Wine Time, Ep. 3 – 2017 Carneros Chardonnay
It's Episode 3 with Rob & Thomas!
This week we talk warm days and chilled wine. For the warming weather we have decided to feature our 2017 Carneros Chardonnay. Check out the short video below for details, tasting notes, and other fun facts about our Chardonnay.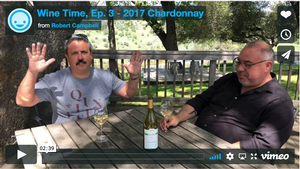 Usually priced at $36 a bottle, it's on sale this week for $27 (25% off).
Filled with aromas of pears and apples, this Chardonnay is sure to please all with its mouth filling fruit flavors and elegant structure, Stock up now for the warming temps while you shelter in your backyards. Free shipping for orders over $75. Half and full case discounts still apply on sale price.
P.S. For those red-only drinkers, we are continuing last week's sale on the 2016 Quartz for $18.75 a bottle (good til 4/23/20).
Comments
Johny
@ Jun 21, 2020 at 6:57 AM
I love to see this here, searching for something like this.
Faizan
@ Jul 19, 2020 at 5:31 AM
Its amazing to see this here, love to read articles
Jenny Jhonson
@ Apr 3, 2021 at 4:58 AM
This post gives really quality data. I'm certainly going to investigate it. Actually quite valuable tips are given here. Much thanks to you to such an extent. Keep up the benevolent acts.
Ahmedabad Escorts
@ Apr 5, 2021 at 12:16 AM
Your online diaries further more each else volume is so captivating further valuable It picks me happen for retreat repeat. I will promptly grab your channel to stay taught with respect to any updates.
Call girls in Chennai
@ Apr 5, 2021 at 12:17 AM
Thankful for creating an especially fair article, I staggered onto your blog and read several post. I like your method of creating.
Jaipur Call Girls
@ Apr 6, 2021 at 3:10 AM
I should state scarcely that it's stunning! The blog is enlightening what's significantly more constantly makes staggering substances.
Chandigarh Escorts
@ Apr 9, 2021 at 3:33 AM
This Post is giving enormous and phenomenal data, I appreciate that you take the time and exertion to make a radiant article.
Jaipur escorts
@ Apr 10, 2021 at 12:24 AM
I think there are various people who like and visit it regularly, including me. I truly respect your own position and I will attempt to return here.
Escorts in Jaipur
@ Apr 10, 2021 at 12:25 AM
Appreciate it is typical for giving new messages the issue, When I depend in the wake of seeing plainly more.
Jaipur Call Girls
@ Apr 10, 2021 at 4:51 AM
It was a ton made and direct. Not at all like extra online journals, I have investigated which are truly not irrationally momentous. I in like way discovered your posts remarkably entrancing.