April 15, 2020 | Wine Time | Robert Campbell
Wine Time, Ep. 3 – 2017 Carneros Chardonnay
It's Episode 3 with Rob & Thomas!
This week we talk warm days and chilled wine. For the warming weather we have decided to feature our 2017 Carneros Chardonnay. Check out the short video below for details, tasting notes, and other fun facts about our Chardonnay.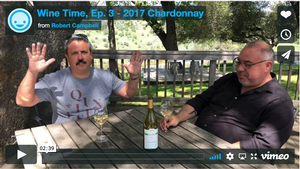 Usually priced at $36 a bottle, it's on sale this week for $27 (25% off).
Filled with aromas of pears and apples, this Chardonnay is sure to please all with its mouth filling fruit flavors and elegant structure, Stock up now for the warming temps while you shelter in your backyards. Free shipping for orders over $75. Half and full case discounts still apply on sale price.
P.S. For those red-only drinkers, we are continuing last week's sale on the 2016 Quartz for $18.75 a bottle (good til 4/23/20).
Comments
Johny
@ Jun 21, 2020 at 6:57 AM
I love to see this here, searching for something like this.
Faizan
@ Jul 19, 2020 at 5:31 AM
Its amazing to see this here, love to read articles