April 8, 2020 | Wine Time | Robert Campbell
Wine Time, Episode 2 – 2016 Quartz Zinfandel
Episode 2 of Wine Time with Rob & Thomas
This week we talk lunch time beverage choices for 'home schooling parents,' new varietals & blends we are working on, and of course, this week's wine special–the 2016 Quartz Zinfandel.
At the incredible price of only $18.75 a bottle you can't go wrong. Click on the short, 2 min. video below for more info….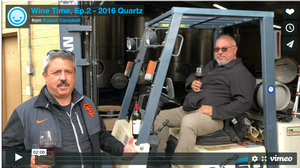 Filled with aromas and flavors of black cherries, pomegranate, and crushed black pepper this wine is balanced with fruit, tannins, and structure. Tasting great now and will hold for several years to come. Remember, while the stay-in-place orders are still in effect, free shipping on orders of $75 or more. Half-case and full case discounts still apply!
Comments
Ecoware
@ Mar 5, 2021 at 10:57 PM
great stuff
Nikki Rastogi
@ Apr 3, 2021 at 4:59 AM
This article gives the light where we can watch the truth. This is pleasant one and gives indepth data. A debt of gratitude is in order for this pleasant article.
ssdvgws
@ Apr 14, 2021 at 3:07 AM
dxarrr
Udaipur Escorts Service
@ Jun 24, 2021 at 1:05 AM
This is a very interesting post which you have a share, I have saved some important points from your post thanks for sharing it. If you are having stress with your daily life so you can see our website there are so many fabulous girls for your body massage please once you can check it.
Hot Jaipur Call Girls
@ Jun 26, 2021 at 12:04 AM
I am truly taking solicitations to look at the articles at first made. You put a stimulating level and vitality in your blog. I have bookmarked it and I am imagining getting a little information about new articles. Which gives me drawing in the information. If you have to stay for two or three days of your work, then go to our office. Also, get all the more captivating moments in your life.
http://www.jaipurescortsservices.co.in/
http://www.vipjaipurescorts.com/
http://www.escortsservicesinjaipur.com/
Jaipur Escorts Service
@ Jun 26, 2021 at 12:06 AM
Hello, friends, I am Nancy from Jaipur. We are working in Jaipur for a good escort service, to hire Jaipur escort services on a website you need to visit our website and go through the list of available girls. You can go to his profile and make a booking. You can book it for a few hours or the entire weekend, depending on your wish.
http://www.kamyaagnihotri.com/
http://www.jodhpurescorts.org.in/
http://www.jaipurescort.net.in/
http://www.jaipurescortsnight.in/
http://www.escortsservicejaipur.com/