April 8, 2020 | Wine Time | Robert Campbell
Wine Time, Episode 2 – 2016 Quartz Zinfandel
Episode 2 of Wine Time with Rob & Thomas
This week we talk lunch time beverage choices for 'home schooling parents,' new varietals & blends we are working on, and of course, this week's wine special–the 2016 Quartz Zinfandel.
At the incredible price of only $18.75 a bottle you can't go wrong. Click on the short, 2 min. video below for more info….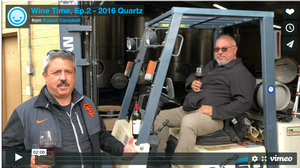 Filled with aromas and flavors of black cherries, pomegranate, and crushed black pepper this wine is balanced with fruit, tannins, and structure. Tasting great now and will hold for several years to come. Remember, while the stay-in-place orders are still in effect, free shipping on orders of $75 or more. Half-case and full case discounts still apply!
Comments
Ecoware
@ Mar 5, 2021 at 10:57 PM
great stuff
Nikki Rastogi
@ Apr 3, 2021 at 4:59 AM
This article gives the light where we can watch the truth. This is pleasant one and gives indepth data. A debt of gratitude is in order for this pleasant article.
ssdvgws
@ Apr 14, 2021 at 3:07 AM
dxarrr