2020 Chinuri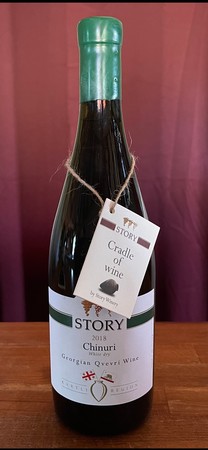 Chinuri is a white wine grape variety grown in the Georgian Republic. It possesses a high level of acidity, and is used for both still and sparkling wines. The variety originates from and is mainly grown in the Kartli and Kakheti regions. It has been argued that the Chinuri name derives from the old Georgian word chini which describes a reddish green color. Indeed, the variety does turn such a color when fully ripe. However, there is more support for a derivation from the Georgian word chinebuli (excellent or "the best"). Some producers actually call the variety Chinebuli.
Story's Chinuri wine is made from fruit harvested a week or two later for extra ripeness. Acidity is still crisp, and alcohol levels are moderate. Many producers contend that the wine needs two or three years ageing to be seen at its best. It can be fermented in traditional qvevri or in tanks. Wines made in the latter then to be floral and herbal with hints of pear. Qvevri Chinuri is more tannic, musky and herbal.
Story's Chinuri is made utilizing best of two worlds of winemaking, old world (Georgian) and modern (European). First grapes are fermented in Qvevri (Georgian clay pots) and than sealed for up to 6 months with skin. After wine is transferred to French oak barrels for prolonged aging. Best to be enjoyed at the room temperature or chilled.
Cheers! Gaumarjos!
Product Reviews