Story of Zin
Taste All 6 Zins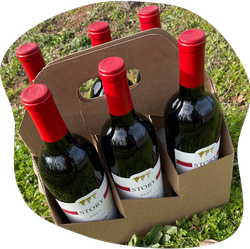 "Story of Zin" features our Vintners Select (Estate Blend), Alitia (Organic Vineyard), Quartz, Creekside (85 year old vineyard), Picnic Hill (125 year old vineyard), Primitivo (Organic Vineyard/Italian Zinfandel). All of our wines are dry-farmed and due to the age of the vineyard a "green harvest" process occurs, which provides less quantity, but higher quality grapes. This translates into some of the most bold, complex, and exceptional fruit aromas in each drop of wine.
The "Story of Zin" not only offers some of the best of our wines, but hails from one of the most prime locations for growing Zinfandel grapes in general. Taste the "Story of Zin" and make any night extra special.
Product Reviews
Humphrey Sonny
(Jun 5, 2021 at 1:13 PM)
Great
N Josselini
(Jun 5, 2021 at 1:47 PM)
Great collection of Zins from Amador Co by Story. They never disappoint on their quality of wines. Just love it every time
Raspberry Sky
(Jul 5, 2021 at 1:51 PM)
This is the best winery in Amador county hands down! The quality and taste is just the tip of the iceberg! If your looking for quality wines these guys don't disappoint. Also try thier selection of great georgian wines!