2019 Saperavi Reserve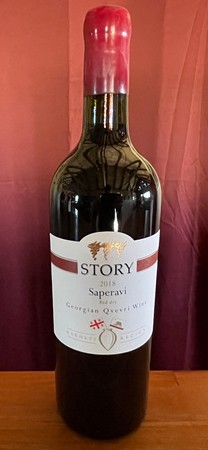 Saperavi (Georgian: საფერავი; literally "paint, dye, give color") is an acidic, teinturier-type grape variety native to the country of Georgia, where it is used to make many of the region's most well-known wines. Saperavi produces an extractive wine with a characteristic bouquet, a harmonious taste, and pleasant astringency. Saperavi grapes produce very deep red wines that are suitable for extended aging. It has the potential to produce high alcohol levels, and is often blended with lighter varieties. It is by far the most dominant Georgian red grape in terms of overall production. There is no Georgian restaurant anywhere in the world that doesn't have Saperavi wine on its menu.
Story's Saperavi is made utilizing best of two worlds of winemaking, old world (Georgian) and modern (European). First grapes are fermented in Qvevri (Georgian clay pots) and after wine is transferred to French oak barrels for prolonged aging. Best to be enjoyed at the room temperature.
Cheers! Gaumarjos!
Product Reviews