April 1, 2020 | Wine Time | Robert Campbell
Wine Time, Ep. 1-2014 Alitia Zinfandel
Welcome to our new Wine Time chat with Rob and Thomas!
In our new weekly video blog with winemakers Rob Campbell and Thomas Allan we talk about our wine sale of the week with tasting notes, funny anecdotes, and what's happening around the winery during "the shutdown." As an added bonus, each of our "Wine Time" wines will be offered at 25% off for the week!
This week, we are featuring the 2014 Alitia Zinfandel. At 25% off, it's a steal at $24 a bottle for a fully mature Shenandoah Valley Zinfandel.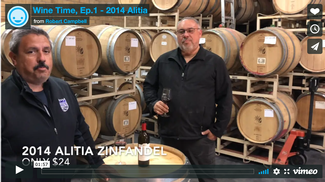 2014 – Where were you in July of 2014? We know where we were – in the midst of the biggest forest fire in decades to hit the winery, the Sand Fire. Although the vineyard was immersed in smoke, it didn't seem to affect the Alitia vineyard. The wine exhibits sensual notes of dark cherries and cola with its usual elegance. Be sure to click on the video blog to learn more about this wine and how it is currently tasting.
Comments
David D
@ Apr 2, 2020 at 6:00 PM
Good job... amazing offer!
Jaipur Call Girls
@ Apr 29, 2021 at 2:18 AM
This is an enlightening post and it is perpetually standard and made. In like manner, I should thank you for the endeavors you have made recorded as a printed duplicate of this article.
Call Girl Service in Jaipur
@ Apr 29, 2021 at 2:19 AM
You there, this is a mind-blowing post here. A commitment of appreciation is paying little character together for putting the push to post such key information.
Udaipur Escort
@ Apr 29, 2021 at 2:19 AM
I expected to thank you for this astounding read!! I certainly respected every single bit of it. I have you bookmarked your site to take a gander at the new stuff you post.
Escorts London
@ Jul 8, 2021 at 10:17 PM
Amazing article. I am so kept up. I think you have a shocking change especially while dealing with such subjects. Grateful for your age.
Escorts in London
@ Jul 8, 2021 at 10:18 PM
Great post I should state and dedication of appreciation is all together for the information. The heading is unequivocally a solid subject. In any case, it is still among the yielded subjects inside late memory.
Escort Agency London
@ Jul 8, 2021 at 10:18 PM
Thank you for this astoundingly tangling article! Gamification is a reestablishing subject. Do you consider driving makers of now? I should need to make my brief concerning this issue. Grateful to you!